The I Ching Mandala App
[column width="43%" padding="30px"]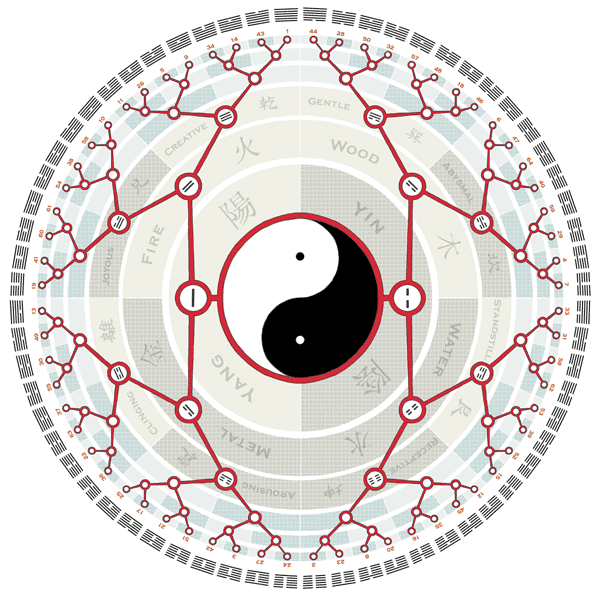 [/column]
[column width="43%" padding="30px"]

[/column]
[end_columns]
The I Ching Mandala is a visual animated oracle showing the journey through the Mandala as the reading unfolds. It is designed to be relaxing and meditative helping to create a positive environment for the reading.
If the centre of the circle represents unity and the outside represents diversity then the I Ching Mandala is an oracle that journeys from the centre (unity) to the outside (the hexagrams) to offer it's insight into a particular situation from the point of view of the whole.
One of the unique elements of the I Ching Mandala is its ability to unify the Tao, Yin/ Yang, the Chinese five elements, the Bagua or trigrams & the 64 Hexagrams into a single interconnected symbol that effectively expands on the core Yin Yang symbol into a circular whole. The tree of nodes reaching from unity in the centre, through the five elements to the hexagrams is unique in Taoist philosophy in expressing the I Ching as a visual metaphor.
The advice that the I Ching gives is how the sage would deal with any particular situation. This edition of the I Ching offers a unique synthesis of this timeless knowledge comprised specially for this Mandala application taking the essence of some of the greatest translations and distilling them into a singular direct answer.
The method used by the I Ching Mandala to choose between the Yin path and the Yang path is directly influenced by the input of the user taking advantage of the many methods of subtle detection employed by the idevices. This makes a direct yet unpredictable link between the caster and the result of the oracle.
It is an essential part of this oracle to create a personal connection to the decision path of the I Ching. Great care was taken in choosing a method of interaction that made a random decision yet genuinely takes its outcome from the users precise state at the moment the coin is flipped.
The I Ching Mandala focuses the reading on the simplicity of the main hexagram and so does not deal with changing lines in this edition.
The I Ching Mandala was originally a limited edition print made in 2002. The mobile phone app is an ideal platform to realise the I Ching Mandala in motion. What an iphone app does is show the I Ching on its journey along the tree of possibilities. To travel along the paths and interact with the mandala makes a relaxing and meditative atmosphere conducive to receiving the I Ching reading.
Find it on the app store here
[column width="50%"]

iPhone version
[/column]
[column width="50%"]

iPad version
[/column]
[end_columns]
[column width="22%" padding="10px"]
"I love this app ….it's beautifully drawn and very simple to use. Go ask it what you want to know…you'll get a good answer!"
Truckington
[/column]
[column width="22%" padding="10px"]
"Wonderful app. A complex application simplified beautifully. Wonderful, soothing music too – five stars!"
Stuart Norfolk
[/column]
[column width="22%" padding="10px"]
"I love this I Ching Mandala app. It's a fun way of doing the I Ching with a modern twist. Simple, yet entertaining, with fantastic effects and sounds and beautiful ambient background music to accompany your reading – makes me want to flip coins all day long! I love this app! *****"
Punk Faery
[/column]
[column width="22%" padding="10px"]
"An excellent app. Beautiful in it's simplicity and design. A must have app *****"
Toucanfairy
[/column]
[end_columns]

CURRENT VERSION NUMBER
iPhone: version 1.25 iPad: version 1.25
COMPATIBILITY
ipod touch 3g / 4g
iphone 3g / 3gs / 4 / 4s / 5
iOS 4.2 – 5.0
ipad 1 / 2 / 3 / 4