A Unique Space for Creative Musicians
"High quality mobile recording space for musical projects that can draw upon the inspiration of magical locations"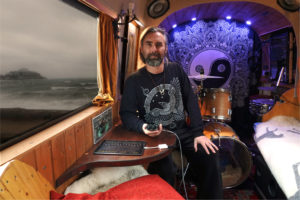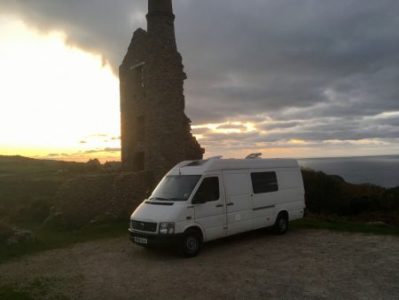 Multitrack, 24-bit, analogue and digital mobile recording facility
Creativity is sensitive and can be linked to a particular situation or place. If the studio can be at the right time in the right place it's possible to record moments of inspiration that have a unique and fresh character.
Take a Virtual Tour of the Studio
Previous Recording Locations
The Studio has many uses and can be adapted to many situations. It would suit a full band, singer song writers, vocalists, acoustic instruments, folk, rock, funk, jazz or more boutique projects like new age meditations. The van itself is equipped with full frequency speakers including sub bass and has 240v power so it's possible to power guitar or bass amps, outboard gear and keyboards at that beauty spot, sunset sea view or rugged moorland wilderness.
Studio Features
The studio also has different sound recording spaces for creating the right ambience for the instrument.
There's the general space that has carpeted walls and rugs to create a 'dry' controllable recording
A wooden (oak and pine panels) reflective 'live' area for brighter character sounds such as percussion or acoustic guitar
An isolation booth enabling vocals (or solo instrument) to be recorded simultaneously with minimum sound spillage.
The custom drum booth is designed with wooden panels in a special arched dome configuration to give pleasing harmonic reflective overtones to the Drum kit sound.
The vibes of a location can often give a sense of perspective and freshness that keeps a record feeling full of life.
*
Studio Equipment
The Studio uses high quality mics (Sontronics, Avenson, AKG, Beyerdynamic) to retain highly detailed sonic audio depth and clarity
Latest hybrid analogue and digital mixing desk from BEHRINGER XENYX UFX1604, 24bit recording with the latest XENYX Mic Preamps (from their Midas mixing desks).
16 tracks can be recorded at a time with unlimited overdubs
Music industry compatible AAF files for further work on the DAW of your choice.
Further mixing and editing can also carried out in the studio to fine tune a production.
The studio also has it's own instrument that can be me made use of if you hire the space these include:
high quality drum kit (Zildjian K cymbals), bass (Musicman Ray34), acoustic guitar (Crafter), 12-string guitar (Tanglewood) plus Hartke bass amp pedal and Tech 21 Sansamp are also available to use for recording.
The van also has tea making facilities.
Music Albums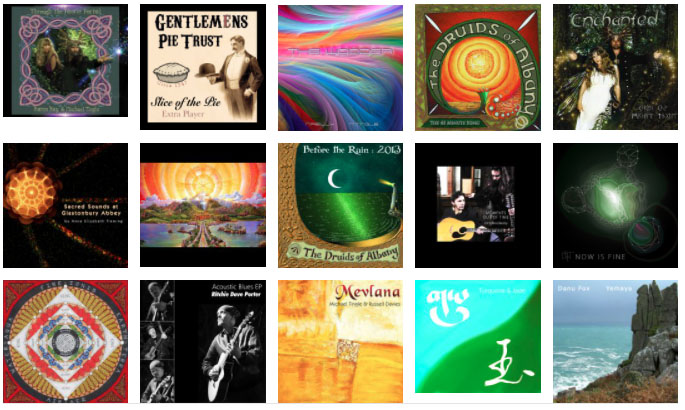 List of Previous Clients
Karen Kay – Pop / Folk / New Age / Meditation
Nick Reilly – Folk / Rock / Acoustic
Ritchie Dave Porter – Heavy Rock / Blues / Acoustic
Barbara Meikle-John Free – Goddess Rock
Flavia Kate Peters – Meditation
Anne Nash – Meditation / Healing
Elayne Griffiths – Healing / Meditation
John Brocklesby – Folk / Acoustic
Russel Davies – Flamenco / Middle Eastern
John Nurse – Acoustic Rock / Folk
Andy Mason – Ambient / Acoustic Percussion
Danu Fox – Shamanic / Jazz
Keiron Chatterjea – Folk / Acoustic
Sophie Temple Muir – Devotional / Meditation
Angela Spain – Meditation / Healing
Lawrence Cook – Rock Blues
Sample Music Recordings
Meditation Albums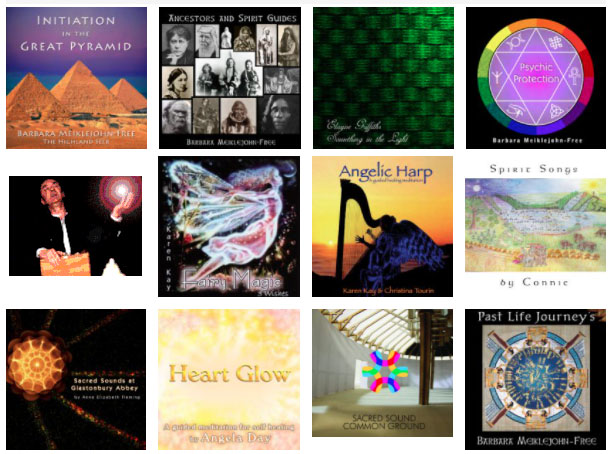 Sample Meditation compositions
Prices

Recording – £50/ hr + fuel
Half day  / Full day / EP / Album – Contact for price
Meditation album (including music) – Contact for price
Studio use in Action – Rehearsals

Magical location while recording, Full moon over St Michael's Mount

Cigar box tune recorded at Marazion beach, Cornwall
The studio is based in the South West, UK. For more information and bookings please use the contact page